Loving the BITE: Obtain Your Goal Strength:Weight (Plus APEX Giveaway)
Here's your chance to achieve success with your strength to weight ratio goals, and improve your cycling performance.
It's been said that a goal without a plan is just a wish.  Last year, during the "off-season," and throughout the year in my posts, I've provided tips for eating healthy, fueling yourself well on the bike, losing fat, and meeting/maintaining weight goals year-round.  This year, I'd like to give you the exact plan to do so.
In fact, I'll be giving one full nutrition program away to a Loving the Bike reader today, and offering a great discount for everyone else who'd like to start 2014 with a bang.
In my experience in helping countless athlete clients improve strength to weight ratio, there are a few key elements for a weight loss plan for athletes.  Here's my recipe for success, and one you can use to meet your own goals: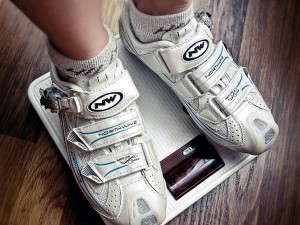 Loving the Bite Recipe of the Week: Reach & Maintain Your Lean & Strong Goal Weight
Ingredients: 
The Right Mindset for Change
Specific Long-term and Short-Term Goals
Plan for Eating – Daily Eating and Training Nutrition
Off-Season Workout/Training Plan
Action
Instructions:
Check Yourself. Especially if healthy eating requires big changes in your life (if your current diet is based on convenient/processed foods), it's crucial that you have the right mindset going in.  It's not easy to make lifestyle changes.  If you don't really want it, and I mean really want it, you won't likely meet your goals.  Since you'll have to read, plan, prepare, shop, cook, and eat (eating being the only easy part), you'll need a "I'll do whatever it takes" attitude for success.
Write Down your Goals.  I know, I know, it's cliché.  Goals. Goals. Goals.  I ask my clients about their goals (short-term) on a weekly basis. I want to know what they want to accomplish in the 7-day period.  I believe a combination of short-term goals (often in the form of habits) and long-term goals establishes the framework for the plan.  So, start by writing down long-term goals.  Where do you want to be in terms of weight, health, cycling, training by the end of March 2014.  Then, once you've read through your plan, go back and each week, add your short-term goal habits to make it happen.
Eat/Fuel Right.  Here's where I come in.  I've recently completely revised what was formerly an e-book (Fuel Right) into a full-fledged Nutrition Program for Endurance Athletes.  First, it includes a customizable Daily Eating Plan that will promote fat loss, if needed.  This eating plan is not just a sample day of eating. It specifies detailed, yet flexible and easy meals and snack options with portions and foods listed. It's the "just tell me what to eat" plan. Next, I provide a comprehensive Training/Racing Fuel Plan.  This plan allows you to find the right combo of drink, fuel options, and electrolyte options to perform your best at all different levels of intensity and duration in training and racing.  Dial in your training fuel, and you'll feel better than ever on the bike.  And lastly, the program includes my full Fuel Right, Race Light Nutrition book (digital), fully integrated with my podcasts, videos, posts, recipes, and other links, to provide the most comprehensive endurance sports nutrition program available.  What's more, I offer a 3-Day Smoothie Cleanse Plan that works as a wonderful and highly effective fat-loss jump-start to get you going!
Keep Training even though Baby, It's Cold Outside. Over the years I've spent a lot of time training as an endurance athlete myself, and working with other athletes who trained year round.  Although my loves will always involve training outside, on my bike, skis, or in my running shoes, I've also found a lot of value in working on explosive, powerful movements in addition to endurance training.  Over the last couple years.  I've developed an at-home 20-30 quick workout that promotes fat loss (high intensity intervals and explosive, challenging moves) to be used in conjunction with regular training. It's called 5 Cycle Fitness. My clients have not only found that its expedited fat loss, but also improved strength and power on the bike, providing a great path to a better strength to weight ratio.
Get Going with Action, Don't Wait for Motivation. I don't believe in waiting for motivation.  I've found that clients who enjoy success choose action each day despite how they feel.  What's more, action itself is often motivating. Action begets more action, more healthful choices, and results.  And, there's nothing like results to motivate you to do more.  So, start with action.
The Contest:
Here's how you can win an Apex Nutrition Fuel Right Race Light Nutrition Program today:
Simply leave up to 2 separate comments below: 1) what's been your favorite or most helpful Loving the Bite topic/post/recipe over the last few years AND/OR 2) What topics/recipes/posts you'd like to see in the future (I'd really love the feedback so I can continue to give  you the information you want and need to ride your best!).
You'll get an entry for each of these comments (up to 2 per person) and I'll randomly pick a winner at 10pm MST tonight.  Want to see what you'll win, check out the Fuel Right Race Light Nutrition Program/3-Day Smoothie Cleanse/5 Cycle Fitness Combo Pack under the downloadable plans.  Click here.
The Apex/Loving the Bike Discount:
I also offer a discount year-round to all Loving the Bike readers.  You can get any Apex Plans or Programs (downloadable or custom) for 15% off by using the coupon code: lovingthebike.  Click here to see the plans.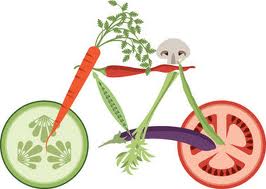 Even if you don't win today, you can still be a winner! My plans also make a great Christmas gift for other athletes in your life, or a good foundation for any New Year's Goals.
Rest assured, I see a healthy eating plan as a lifestyle, and not a mere diet.  When you eat right, not only will you meet your cycling goals more effectively, you'll also feel great, improve health, increase energy, and reduce risk for chronic disease.  We're talking whole, real foods, and real lifestyle habits.  Whether you choose an Apex Plan or not, I wish you all the best in cycling and health throughout the remaining days of 2013 and all of 2014.
Fuel Your Ride. Nourish Your Body.
photos c/o: tunedintocycling.com and theaverageroadcyclist.com