Loving The BITE: Real Food Pumpkin-Spice-Latte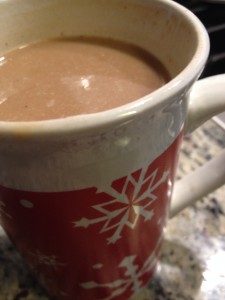 It's all the rave.  #PSL.  #pumpkinspice.  Or, for those who have missed it, Pumpkin Spice Latte.
It's at Starbucks, of course, McDonald's, and many coffee shops  across the country. With the big-name franchises, its big money as a seasonal favorite latte this time of year.  And why not?  Pumpkins and pumpkin spice are wonderfully festive, delicious and offer lots of healthy benefits.
The only problem?  There's no pumpkin in these lattes (shocking, right)?  And, while there might be pumpkin spice, there's also 39 grams carbohydrates, 38 grams of which are sugar, and 300 calories in a 12 oz.
Now, I'm never happy to be a Holiday party pooper, but c'mon, that's not a drink, that's a sugar-loaded meal.  And, I'm willing to bet the 2.5 Tbsp.-worth of sugar isn't sourced from real maple or another acceptable option.  I guess if you're at the weight you want to be, and have no problem with guzzling down caffeinated sugar, fine.  Or, if this is immediately before or after a ride, and you add some protein for the latter, fine.  But, still, you can do better.
And, oh yes, this week we will.
Recipes of the week: Real-Food Pumpkin Spiced Latte
Ingredients:
4 oz. bold/strong coffee or 1 shot espresso
6 oz. milk (can use dairy, unsweetened hemp, almond, coconut, etc.), warmed
2-3 Tbsp pumpkin puree (organic preferred, from can or see instructions below)
1-1.5 Tbsp real maple syrup
1/8 tsp. pumpkin pie spice
1/2 tsp. vanilla
Instructions:
Mix pumpkin puree, maple, spice, and vanilla together; stir well.  Pour coffee/espresso and warmed milk into a cup.   Add pumpkin puree mix.  Stir well and enjoy.
*To use as a great RECOVERY FUEL LATTE: Add ½-1 scoop undenatured whey protein or other protein powder.
*To roast a pumpkin and make puree: Preheat your oven to 350 degrees. Cut pie pumpkin (these are the smaller ones, not the large jack o' lantern pumpkins) in half and remove seeds and strings.  Place cut side down on a baking sheet. Poke the skin side with a fork in several places on both pieces. Place in oven and roast until soft (a fork should go through the skin and flesh with ease once it's done). Most small baking pumpkins take about 90-120 minutes.  Once cooled, scoop out flesh and place in a sieve over a bowl to allow water to drain. Next, puree in food processor.  You can also freeze individual servings once pureed.
Nutrition Info (12 oz.): ~160 calories, 25 grams carbs, 24 grams sugar (from milk (if dairy used) and real maple)
Comments:
I do love pumpkin flavor.  And, I love fall.  And, I love lattes (lots of love around here).  So, there's no reason to put these together on a chilly day and enjoy a hot drink.  And, when you use our recipe, rather than the refined sugar, chemical-ladened one, you'll even give your body something good to work with.
Here's what you'll get from pumpkin:
Antioxidants: Alpha-carotene, beta-carotene, beta-cryptoxanthin, lutein, and zeaxanthin.  These antioxidants will work together to fight free radicals, reduce risk of cancer, promote heart health and reduce plague formations, and preserve eye health.
Anti-inflammatory nutrients: The cell walls contain pectin, and this pectin contains components that are anti-inflammatory.  A high anti-inflammatory diet can lead to less chronic bodily inflammation which means less chronic bodily disease.  Pumpkin seeds offer their own anti-inflammatory components that may reduce arthritis.
Anti-cancer action: Specifically, a reduction in the risk of prostate cancer due to zinc and components in pumpkin seed oil.
Heart-Health Components: Pumpkin seeds contain phytoestrols which can reduce "bad" cholesterol.
Additionally, fiber, monounsatured fats, omega-3s, B-vitamins, and copper (important for energy production).
And, if you're into lattes, but pumpkin spice is not your cup of tea, try our Homemade Chia Latte.
Bonus Recipe: Roasted Pumpkin Seeds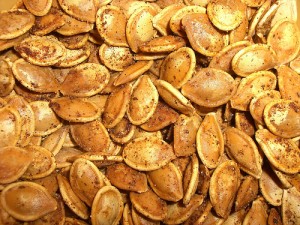 Remove the seeds from the pumpkin.  Wipe off excess pulp and moisture.  Spread in single layer on paper bag overnight to dry out completely. Then, place seeds in a single layer on a cookie sheet.  Roast at 160-170°F (about 75°C) for 15-20 minutes. By first allowing them to dry, then roasting at a low temperature for a short time better preserves the healthy oils and nutrients (compared to higher heat and longer roasting).
The more I work with cyclists, the more I am absolutely convinced that a diet high in foods and nutrients that combat inflammation, toxins and oxidative stress makes a huge difference in overall energy, endurance, stamina, recovery, health, metabolism and fat loss.  This week, you've got a delicious latte and delicious snack.  Loads of antioxidants and anti-inflammatories.  Not bad for a little pumpkin.
Fuel Your Ride.  Nourish Your Body.