Roks and Bloks
No, I didn't forget the c's in the title to today's post…..this one is all about two secret weapons I always take with me on certain rides.  Yep, I'm talking Clif Bar Shot Roks and Shot Bloks today…..plus we have a nice little giveaway for you as well (see bottom of post for details).
Long before I "got involved" with the great people from Clif Bar, I've really liked their products and how they've helped with my performance on the bike.  I first wrote about Clif Bar and Shot Roks back when I used to live in Canada and I cried out for help because that product wasn't available there, and I wanted to get my hands on some.  You can check out my love for Shot Roks and the review right here.  It was actually that post that led to the relationship Loving the Bike now has with Clif Bar, and we're very happy it all worked out this way.  But just so you know, I was loving these products long before becoming an ambassador for the company.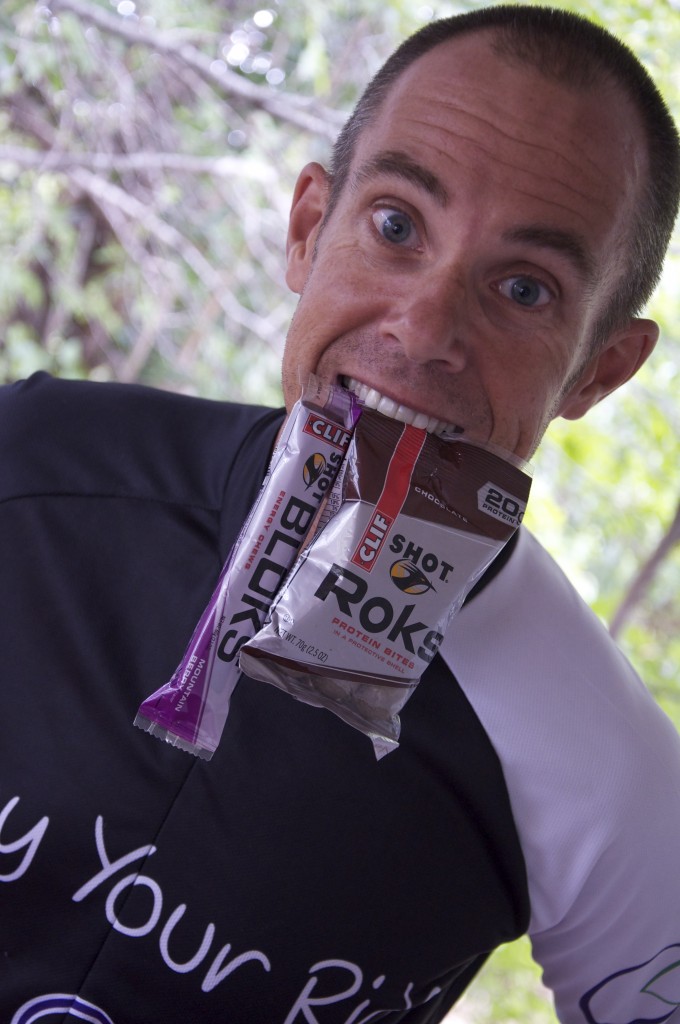 Okay, so Clif Bar makes a lot of great products but I wanted to mention two of them that are always with me on ride of around 50 miles or more.  I consider them my secret weapons and the combo has yet to let me down.  With all the choices and products out there, how come these are the two that grabbed my attention? I'd say it's a combination of convenience, taste, performance, and superstition.

The Roks are fantastic because prior to riding I can take them out of the package and just pop one in my mouth whenever I need it.  I don't have to worry about opening packages, melting, or holding onto a bar while riding.  Total convenience, great taste, and as I talk about in this review….performance.  Basically, Shot Roks are protein bits which are a very important part of proper nutrition while riding.
The Bloks are the perfect accompaniment by providing carbohydrates to my working muscles.  But just like the Roks, I can easily pop them in my mouth when needed and to me it's so much simpler (and less messy) than dealing with gels.  Basically, Bloks and Gels are the same thing….but I like the bloks because they taste great, are easy to ingest while on the bike, and are customizable (you can take as many of them as you feel you need at the time).  I'll pop anywhere from 1 to 3 of the Bloks at a time (Clif Bar recommends taking 3 to 6 per hour during exercise along with water).  Oh, and I crack the packaging open prior to the ride so I don't have to mess with that while out on the road.  Yeah, I'm all about ergonomics.
So what about taking my secret weapon combo on all rides?  Well, I like to suggest to people that sports supplements should only be taken when absolutely necessary.  In my opinion, rides of one hour or less don't require anything other than water.  Rides between one and two or three hours can definitely be done just with water, but things like hydration tabs and Energy gels or chews might be a good idea as well.  If your ride is taking place at a time where it's been at least a few hours since your last meal, taking along some sort of protein is a good idea as well. For rides of over four hours, I recommend taking along all three types of nutrition.
If you have more questions on this, feel free to contact me (and our Nutritionist, Kelli) so that we can ensure you're taking the right nutrition with you on your rides.  Good Cycling starts with Good Nutrition.
For more specific information and details on Roks and Bloks, check out these FAQ's: Clif Bar Shot Roks and Clif Bar Shot Bloks.
Clif Bar Contest
This is sort of a backwards contest because to enter, we want you to tell us about Clif Bar products that you have never tried.  Yeah, we'll customize your prize pack so that you're able to try out some new Clif Bar Goodness.  Below is a list of the products we've got available to you (click on them for more information)….tell us which ones you've always wanted to try out by leaving a comment for us below, and you're in to WIN.  Contest closes on Friday, November 4th at Noon EST.
The Contest is now closed.  Thanks to everyone who entered and we're pleased to announce that Pamela is the winner of our Customized Clif Bar Prize Pack. Keep a look out for more Clif Bar contests and giveaways over here at Loving the Bike.