It's that time of year when many cyclists are cranking up the miles for some long, hot rides….which also means a need for more hydration.  I'm sure most of you have at least one (but probably two) bottle cages on your bike.  But what do you do when you're in need of carrying more than two bottles?
Making a stop at a convenience store or somewhere else to fill up your bottles is one option for sure.  If you don't like making stops or will be riding somewhere that doesn't have much for civilization around, then taking along a third (or even fourth) bottle is a must.  To be honest, I've been on many hot weather rides where even having three bottles wasn't enough, and I still had to stop in and fill up at a convenience store.
Many cyclists use the third bottle or maybe even take one of those water backpacks along, but if this is something new to you…you might be wondering where the heck that third bottle goes.  Sure there is the option of putting a third cage on your seat post or somewhere else on your bike, but many cyclists (including myself) put it in the back pouch.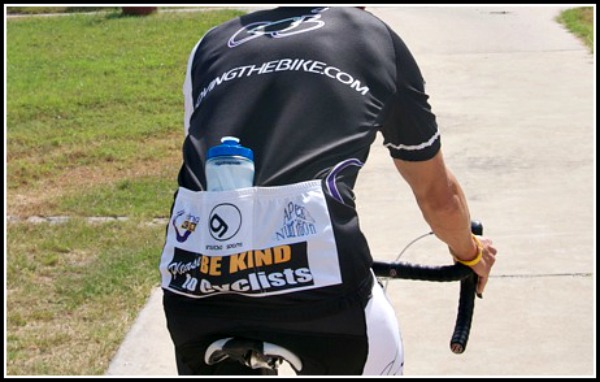 I find that it actually fits nicely in the middle pouch and once I get pedalling, I don't even know it's there. The funny thing is that the bottle doesn't even become boiling hot.  I honestly don't know why this is, but you'd think with it being exposed to body heat and the sun's rays that it would heat right up…but I haven't experienced this yet.  But just to make sure it stays as cool as possible, you might want to consider making that 3rd bottle (or all your bottles) a Wooly Mammoth from Hydrapak.  Yes, they supplied me with one to try out….but you know I'm being honest when I say that the bottle does a great job at keeping the water cooler than a non-insulated one.
How about you?  Let's hear your thoughts on long, hot rides…and what you do for hydration.  But as you make your way down to the comments section, be sure to have a look at what our nutritionist Kelli has to say about staying hydrated on your rides.
Important Hydration Information for Cyclists:
1. For every pound of body weight lost during training (through sweat, respiration, and urination), you've lost 15-16 oz. of fluid. Just a 3% loss of body weight due to dehydration can significantly impair your performance, muscle contractile strength, and speed. In fact, the effects of dehydration are:
0-1% body weight loss = Thirst
2% = stronger thirst, vague discomfort, loss of appetite
3% = decreased blood volume, impaired physical performance
4% = increased effort for work, nausea
5% = difficulty in concentrating
6% = failure to regulate body temperature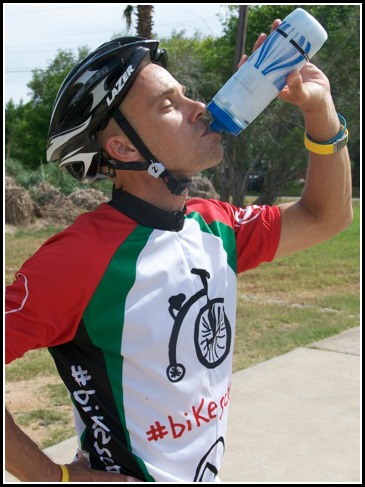 2. For best performance, avoid dehydration during exercise (don't just wait until afterwards to re-hydrate). Aim to consume 16-32 oz. fluid per hour during training; then, replace the remaining losses after.
3. Estimate the amount of fluid you lose during exercise by weighing yourself before & after your training/event. Remember, every pound of weight lost is ~15-16 ounces of fluid (every kilogram of weight is 1 liter of fluid). Form a plan to proactively drink fluid during the event. If you cannot determine your fluid loss by weighing before and after, follow a general rule of thumb: drink 24-32 ounces of fluid/hour for moderate-high intensity endurance events.
4. Most athletes can tolerate 10-13 oz. (300-400 ml) of fluid immediately before their training or competitive event. This can help you stay ahead of dehydration. As always, experiment during training, NOT on race day!
5. On a daily basis, drinking an increased amount of fluid can help your body adjust to retaining a greater volume comfortably.
6. It is also a good idea to kill three birds with one stone and drink fluids that contain carbohydrates and electrolytes.
7. It is even more crucial to stay hydrated if you are exercising in hot and/or humid weather.
8. Rehydrating and replenishing electrolytes and carbohydrates during exercise has been shown to improve performance when exercising 60+ minutes.