I'm a cyclist who claims that I was born with a pair of sunglasses on my face.  I don't think I've ever been out riding without a pair on…yes, even when it's raining I'm wearing sunglasses.  Today we have Nate Schrader from SunglassWarehouse.com providing a guest post on what to look for when purchasing cycling sunglasses.  He's a cyclist like us and provides great information on protecting your eyes, and his company also sells some cool sunglasses at an insanely cheap price.
What To Look For In Cycling Sunglasses
By Nate Schrader | The Sun Authority of SunglassWarehouse.com
It was a few years ago when I picked up my cousin's pair of crazy looking sunglasses from the table. They weren't the Oakleys I was accustomed to, and the lenses were orange with holes near the frames. I don't even remember the brand, but they were the odd duck in my book of sunglasses.
My cousin, who's been on many charity bike rides after going through cancer treatments and beating them, put his experienced cyclist ego aside and informed me they were sunglasses for cycling. If you're like I was, you could imagine that biking sunglasses will have some special features specific to biking, but you might not know all of them or what they are. I can tell you after biking to work at Sunglass Warehouse (and maybe doing a little research for you on the Sun Authority!) that the right pair of sunglasses do make a difference and can save you headaches, flat tires, and maybe even your life.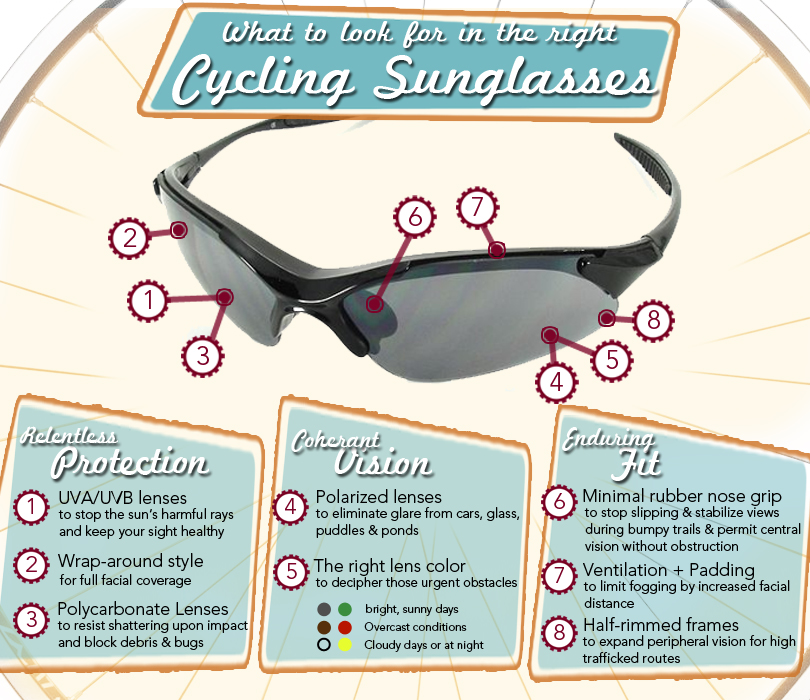 Sunglasses like these half-rimmed sports sunglasses with small nose pieces and tough lenses are a good example of cycling sunglasses.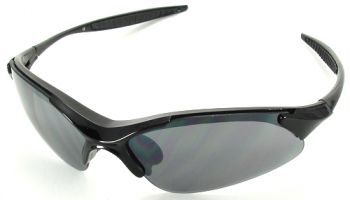 First Things First: Protection
THE most important thing you can have in sunglasses is UVA/UVB lens protection. Usually acceptable at UVA/UVB 400, this lens feature blocks out the sun's harmful UVA and UVB rays that cause glaucoma and other eye diseases. Plus, if you wear sunglasses without this protection, the darker lenses make your pupils bigger and let in even more light and even more harmful rays – the opposite of what you want!
Polycarbonate lenses:
Next is all about full-faced protection. Polycarbonate lenses are much more flexible and can absorb flying objects' impact than glass. A wrap-around style that curves along the sides of your face will block even more sun, dirt, and those pesky summer mosquitoes from infiltrating your vision. Plus, if you're a contact wearer, wrap-around styles provide a better barrier from wind at high speeds to keep your eyes fresh without eye-drops.
Seeing the Unforeseen: Comfortable, Enhanced Vision
Your next few features to look for aren't always utilized, but in the worst conditions these two qualities can make a huge difference. If you've ever encountered that bright glare from the backs of cars or nearby buildings or bodies of water, you'll probably agree that a blinding stint of glare could be the end of your ride. Polarized lenses will stop that glare faster than a red light in your groove. Although some cyclists avoid polarized lenses to better spot oil spills and puddles on the road, polarized lenses always have a place on your face on sunny, dry days.
The right lens color: can make all the difference in spotting those rocks, nails, and other flat-tire causing demons lurking in the bike lane by increasing your vision's color contrast. Here's the best lens tint colors for the given conditions:
Bright & Sunny: Grey and green
Overcast: Copper and amber
Cloudy & Nighttime: Yellow and clear
*NOTE: Yellow sunglasses are thought to improve night vision, but actually do not. Clear lenses are the best lens color for your late night rides.
This Pair Fits Just Right: an Enduring Fit
I use the word enduring because on those longer rides, tighter fits become more noticeable. You want to make sure they're lightweight with rubber grips to prevent slipping on your hotter rides. The smaller the nose piece, the better, because combined with a half-rimmed style, your peripheral vision is clear to see what's in front of you and those crazy right turners to your left.
Ventilation and Padding:
Finally, ventilation and padding, and maybe even an elastic strap will improve both fit and vision. The padding will increase distance between your face and your lenses, which will help prevent your lenses from fogging up. Just like rolling windows down in your car, vented lenses and frames will help with fogging too. I've seen some styles with an elastic strap to ensure your shades stay put, but most cyclists will agree a strap is not absolutely necessary.
Hopefully now things make a little more sense for your next trip. Remember that there's not just performance benefits to wearing sunglasses, but eye health benefits too. So for those long rides constantly under the sun, remember that the bill of your helmet probably won't be enough. If you have any questions, or any preferences on features to look for, comment below and help your rookie riders out!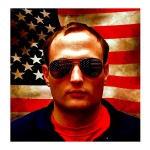 Thanks again to Nate Schrader from SunglassWarehouse.com's Sun Authority, a resource for "everything under the sun." When he's not helping others with the best sunglasses match, he's training for his next cyclocross race and starting up a bike-share program in his home town of Indianapolis.