When You're Too Cheap For Bicycle Accessories
Bicycle parts and accessories can be quite expensive….but you don't always have to spend the cash as long as you're not embarrassed about looking cheap.
Yeah, I'm definitely known as Mr. Frugal….aka Mr. Cheap even when it comes to spending money on my bikes.  It's not that I have a problem with spending money, it's just that I don't like handing over the cash unless it's really necessary.
I've been riding my mountain bike more and more lately, and also doing so under some wet and rainy conditions.  The tread pattern of my Jamis Trail X2 just happens to toss up a spray of water that nails me right in the face…..and I'm not really keen on tasting those nasty Caribbean roads while I ride.
Sure, the easy answer would be to get fenders.  But not when you're El Cheapo.  I gave it some thought, looked around the house, and found a small cloth bag in the closet that had a cinch strap on one end.  Ah ha.  I cut out the bottom, slipped it over my head, and tightened it up.  Problem solved.
Here is a look at my gangsta approach to the spray problem: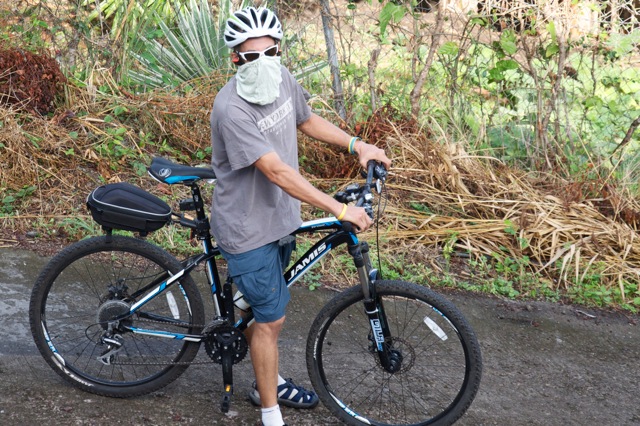 Yes, I actually do this…..and it works.  The people of Grenada love having a reason to comment to you about something, so you can imagine the looks and responses I get.  Just this morning as I was leaving my house a guy yelled out, "why you wearing a mask?".  I responded with, "hey man, to keep all that water from spraying up in my face".  "Oh, good idea" and a laugh was all I heard as I rode on.
I was also recently able to stop the spray from the back wheel as well, thanks to the guys over at Detours.  As I explained in this review I did of their D2R bag, it totally helps keep the water coming up from the back wheel.
So what are some of your miser approaches to expensive bicycle parts and accessories?  Here's a great one from my friend Shawn over at Texas Mountain Bike Trails…..a DIY bicycle rack.