I know all cyclists aren't with me on this one, but I like having my iPod with me while I'm riding….and the way in which I do it is totally safe in my opinion.  I'm a road cyclist and am not in situations where I'm surrounded by pedestrians or riding along with slow traffic.  Situations like these where it's important to hear all that is happening around you is not a great scenario for listening to music while on your bike….but if done right, can still be okay.
Oh, and I'll get into it more at the bottom of this article, but I'm going out there as saying that the wind noise we can experience out there while road cycling is much louder and distracting than music at the levels I listen to it at.
This isn't the first time I've posted about riding with music and I'm doing it again because this is one subject that I have more than a few things to say.  In fact, it sort of burns me up a little.  Every day I see people on cell phones while driving their cars and I see how un-focused and un-safe they are while doing so.  That's a subject that I plan on posting more about soon, but to me that is like a bazillion times more dangerous than cycling with earphones.
One Ear Headphones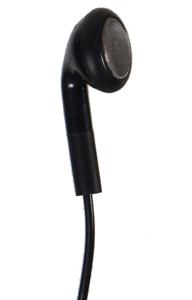 There are quite a few states that ban the use of headphones while cycling and I posted about that in the past as well.  In some states (I believe – California, Delaware and Maryland), they've partially banned it by only allowing the use of earphones in one ear.  I can live with that law and in places like this, the products from our friends over at Far End Gear are exactly what you need.  Their custom-designed earphones mix both channels of sound from your audio device into one single ear….so you get good sound and have one ear totally open to the sounds of the road.  I actually recommend these earphones to all cyclists, even if it's not the law where you're located.  (note: One Good Earbud was a self-funded company that successfully grew into what is now called Far End Gear and have introduced new product lines along the way).
Watch for another post about Far End Gear later on this Summer as we promote the launch of their new product, Brite Buds.  Brite Buds are earphones with reflective material embedded in their fabric wrapped cords and we'll be doing a giveaway as well.
One Small Rant
Okay, I mentioned earlier that the idea of banning the use of earphone while cycling sort of burns me up. Well, I'm not much of an argumentative kind of guy and I know there are people on both sides of this one, but here is one point that I'd like to make that totally justifies my use of headphones while cycling.  There are many times when I'm riding along and the wind is blowing so loud in my ears that I can't even hear the music through my earphones.  What this tells me is that in situations like this my hearing is way more distorted than at any time I am listening to music.  If there is going to be laws against cycling with headphones, then I guess they're going to have to ban us from cycling in strong winds as well.  Yeah, right.
Let's hear what you have to say on this subject.  The topic created quite a debate the last time we posted on it, so let it rip.